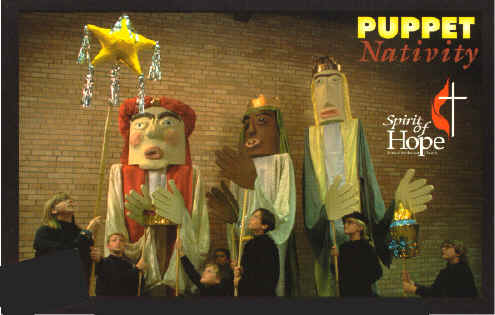 Presented from 1995 to 2003 at Spirit of Hope United Methodist Church in Golden Valley, Minnesota
Puppets, masks, and music are used by an intergenerational cast to tell the story of the first Christmas in Spirit of Hope's annual presentation of the Puppet Nativity. From the grandeur of wisemen over ten feet tall to the tender sight of the tiny child, young and old will be delighted and amazed as the story unfolds before them.
The music was provided by a twelve member ensemble directed by Jerry Rubino.  Additional music was provided by a children's ensemble.  The puppets, operated by a cast of 30 puppeteers, ranged from shadow puppets and small rod puppets to larger than life rod puppets that require three puppeteers each.  There was even a chance for children from the audience to join the performance as "stars" following the Star of Bethlehem.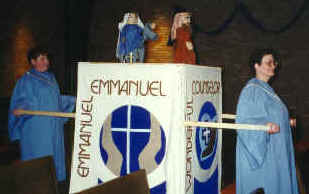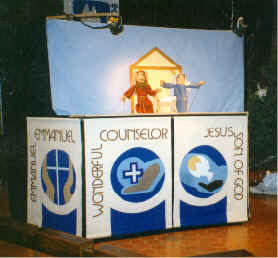 Following the 1998 Puppet Nativity, we received the following note:
Kurt,
This was a wonderful event for us to attend.  I have 3 kids ages 7, 4, and 2.  We sat in the front row.  I was worried before everything started that Christian my 2 year old wouldn't make it – he was using the front railing for climbing.  I would have had to drag him out to make him stop.  I decided to wait until the event started to see if he would settle down.  He stood in awe of the entire event.  He especially loved the majestic kings.  He stood on the pew with his little arm around my neck.  My bigger kids totally enjoyed everything, but especially being part of the star parade.
And the music was fabulous.  Your wife has a wonderful voice.   Great Choir.  Amazing keyboard artist – choir director – I love the way he made us stop singing and reminded us to smile.  A perfect reminder of how lost the simple joy can be in a commercial Christmas.
I loved your production.  We will be there every year.
Jana Sunnarborg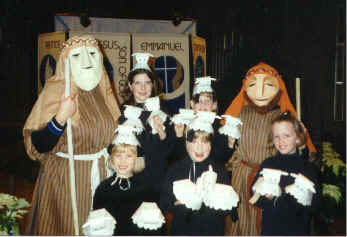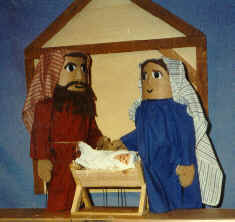 The Puppet Nativity began as a family friendly Christmas Eve service in 1995.  The puppets were created by the members of Spirit of Hope during Wednesday evening  and Saturday work sessions through out Advent.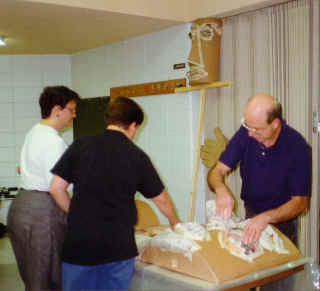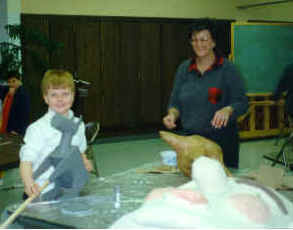 After the excitement of that first Christmas Eve service, Puppet Nativity has grown and changed into a very special offering to the community.