TONY SARG – Artist and Creator of Marionette Shows
1 lb. Swift's Premium Tender Frankfurts, Dinner Size
1 bunch watercress
1 small head lettuce
1 small head endive
Romaine, chicory, or spinach may be substituted
1/3 cup thin onion slices
Wipe frankfurts with a damp cloth.  Cut into thirds crosswise, then into "sticks" lengthwise.  Wash and drain the greens.  Break into pieces.   Marinate the onion slices in diluted vinegar, then drain.  Toss greens, onion slices, and frankfurt "sticks" together.  Add Horseradish French Dressing and mix lightly with two forks.
Horseradish French Dressing
1 small clove garlic
1/4 cup vinegar or lemon juice
3/4 teaspoon pepper
1/8 teaspoon pepper
1/4 teaspoon paprika
1 tablespoon sugar
3/4 cup salad oil
1 tablespoon prepared horseradis
Slice garlic, add to vinegar, and let stand twenty minutes, then strain.  Combine salt, pepper, paprika, and sugar, add vinegar and oil.  Shake or beat vigorously.   Add the prepared horseradish and beat until ingredients are well blended.
(This recipe was found in a celebrity cookbook from the 1920s or 1930s.)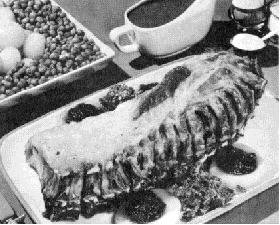 BIL and CORA BAIRD, whose puppets have enchanted audiences of young and old alike, prepare this favorite recipe in the kitchen-studio of their New York coach house.
5-lb. loin of pork (ask butcher to saw backbone into chops, part way through, for easy carving into chop-size pieces)
Place pork loin, with ribs down, in shallow roasting pan. Then, in saucepan, combine:
1/2 cup sherry
1/2 cup brown sugar, packed
1 tablesp. grated orange rind
1/3 cup orange juice
1 teasp. horse-radish
1 teasp. prepared mustard
Bring to boil. Then pour sauce over pork. Roast pork at 325 degrees F. 35 min. per lb., or about 3 hrs. for 5-lb. loin, basting it often during first 2 hrs.
By the time pork is done, it has a slightly charcoal appearance and taste. If preferred, roast pork 1 hr. before adding sauce. Garnish with peach halves filled with cranberry sauce.
(From Good Housekeeping's Who's Who Cooks:  Famous Recipes of Famous People, copyright 1958.)
BONUS TIP: George Latshaw recommends lard for a flaky pie crust.