Puppetry in Sunday School
The Workshop Rotation Model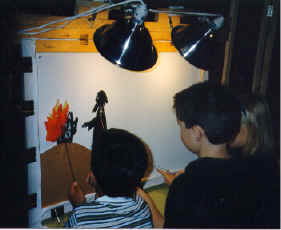 Kids operating shadow puppets of Moses and the burning bush.
I had the good sense to attend your workshop in 2002 at the rotation conference in Chicago. I was never much of a puppet person until that workshop. I bought your book. We built your theater and from the first moment we began puppeteering the puppet workshop was a huge hit. It remains the favorite workshop.
– Dana Hansen, Director of Christian Education, Fort St Presbyterian Church, Detroit, MI
Additional Resources for Puppetry in Sunday School
(Scripts, Puppet Patterns, Etc.)
An Overview of our Puppetry Program
for the Workshop Rotation Model
In 1996, under the leadership of Ardys Sabin, Spirit of Hope United Methodist Church took the plunge and converted our traditional Sunday School to the workshop rotation model. (Learn more about the workshop rotation model at: www.rotation.org) Essentially, the new model is a "hands-on" lab based approach that takes advantage of the fact that people learn in different ways. At Spirit of Hope we used seven different labs.
– Church Mouse (computers)
– Mary and Martha's Kitchen (cooking and foods)
– Thou Art (arts and crafts studio)
– Abundant Life Theater (videos and popcorn)
– Matter of Faith Science Center (science)
– Father Abraham's Arcade (games)
– Parable Productions (videotaping of puppets and live drama)
The kids still are grouped in classes by age, but they will go to a different lab on each Sunday. The teachers work with a specific lab rather than a specific grade. For instance, during a five week unit on "Creation", the first graders might be in the computer lab the first Sunday creating their own multi-media creation stories on the computer. The next Sunday, they might be in the science center learning about the miracle of creation from a scientific point of view. The next week, they might be in the puppet lab performing the story of creation with shadow puppets and having their performance videotaped.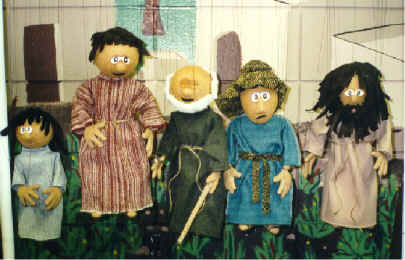 We have used shadow puppets, rod puppets, marionettes, and object theatre in Parable Productions.  The rod puppets that we use are based on legendary puppeteer George Latshaw's "handle bag puppets."  George developed this style of puppetry specifically for work with children.  The puppets are simply a head on a handle (in our case, a wooden dowel) inserted into a hole in the middle of an envelope of fabric.  The child's hand inserted into the corner of the fabric envelope becomes the puppets hand.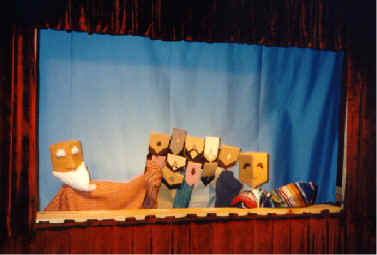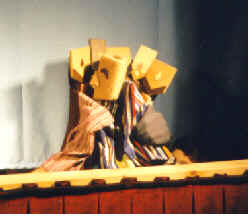 The handle bag puppets are ideal for "acting out" the stories.  They can handle props and express emotions very well.  The stories are told with a narration, but no dialogue, so the children operating the puppets only have to concentrate on what the puppet will do, not what it will say.  For this reason, "moving mouth" puppets are not well suited to the way we use puppets in Sunday School.
Feel free to contact us, if you'd like more information about our use of puppets in Sunday School